Social Links Widget
Click here to edit the Social Media Links settings. This text will not be visible on the front end.
Recently I had the pleasure of sitting down with Julie Hall over a cup of coffee to talk about her approach to being a successful gen Y real estate agent. Julie is a successful Associate Broker in our Renton office but her approach to engaging with her clients is different than what a traditional agent is doing today.
Julie is in her 4th year in real estate getting her start in 2006. In her third year in the business she was one of the high-producing agents in her office during one of the worst years in real estate. I was curious how a 28 year old new agent could do so well compared to many veteran agents in the real estate industry who were struggling.
My first question for Julie was "where does your business come from?" Here response was "Facebook."
Julie has a very simple, genuine, and direct approach. She said by being involved in Facebook, people in her circle of friends post life changing events everyday and that allows her to be in their life. All she does at that point is interact with those individuals, whether providing a resource, lending an ear, or telling them she "likes" what they are doing. You won't see her selling or bragging about her business. What you will see is Julie being Julie. On any given day you may see her say things like:
"CONGRATS to the Cronk's today! We are doing final walk-through and signing for their new Quadrant home." or
"Helping my client clean his hot tub, now keep your fingers crossed that it works! Can't wait for hot tub Thursdays!"
In addition to celebrating client's opportunities and victories you may also see Julie supporting her friends and their accomplishments, for example:
"Lisabet is great ~ if you think you want some spa love during the day think about using Mod Beauty Squad! Fan them on FB too." (after recently seeing Lisabet on Evening Magazine).
I asked Julie to sum up for me what it is about Facebook that allows her to stay so connected to her circle of friends?
She replied "I get an opportunity to be a part of the small things in their lives that a cocktail party might not reveal; little things that can start huge conversations. There are many ways to integrate yourself into a conversation without being in their face all of the time. I also have the opportunity to meet people connected to my friends that I could not necessarily meet in another way – I have had many couples become clients because I have stayed in touch with them throughout their transition, whether a wedding, divorce, or a move. I look for change. Facebook is also a good chance to quickly brand yourself as an expert – I get many questions from friends because of how easy it is to use FB while staying in their comfort zone (and not scary to call up a real estate office)."
Julie wants other real estate agents to know that this has not happened overnight. She makes a conscious effort to grow her pool of friends and create quality relationships. She joined Facebook about 6 years ago. Since then Facebook has become a larger tool for social networking.
Now, go make friends and Facebook!
Ok if your not a Seth Godin fan then you should be. You can subscribe to his blog @ http://sethgodin.typepad.com/. This video that he did has some really great points that I think are very relevant to the Real Estate Industry.
He makes a great point about not trying to please everyone with your product or services. Just make sure what you do is the very best for the niche that your are trying to serve (your tribe).  His example of Apple vs Nokia is a great one. Apple said hey lets make a phone that is very expensive and isn't for everyone and does some very specific things well,  and look what happened. Then Nokia said he lets make an average phone that is either free or very inexpensive and see what we get.
This concept holds true for you business. Don't try to be the best price on the block or the best bargain. Create a services that is the best and make it invitation only. You will be amazed at the response you will get compared to being the bargain average services.
Thanks for taking the time.
So I have to say that Google is pretty creative in that the page they use really doesn't have anything on it except for the word Google. It is what they do with that word that makes them so creative. I'm curious just how many people go to google just to see what they will do each week with the word google. The one today was great check it out.
"The last time I read a news paper I was cracking my buggy whip and looking for fresh ground to plant my claim flag."
All kidding aside, one of the challenges I see today in the world of Real Estate is based on how we market and where we market. I was in a meeting not too long ago where we had Windermere Owners trying to figure out the spend in a local news paper and I asked the question why?  The response I got was "The sellers want it, it still helps us get listings."  I understand that thinking on the surface but if we dig deeper why does the seller have this perception that advertising in a news paper helps to sell their home. In my opinion the dollars used for that spend could have such greater impact if used elsewhere.
So what is the solution, it starts with educating the messenger. That would be the Realtor, in this day and age you have to be able to articulate your marketing program and why you do what you do and why your program limits the amount of traditional marketing and focuses more on the Internet and social marketing.
Here are some graphs to better articulate what is happening to the eyeballs in the world of print.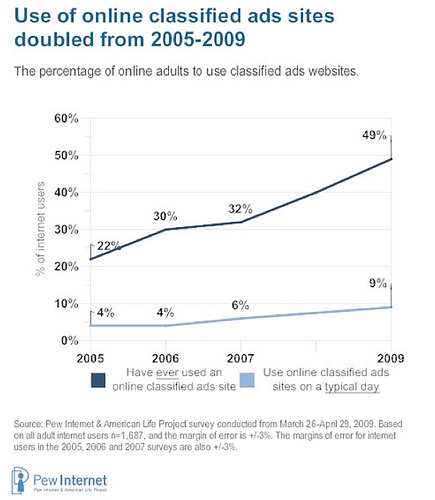 As you can see from the data above the drop in readers and the increase in  Internet marketing is making the newspaper a tool of the past. I get it however it is hard to not use the paper if you do not have a good grasp of what your going to replace it with. You may want to read one of my older posts where I explain the power of craigslist and  how Windermere is shifting our thinking and doing more with listing syndication and less with print advertising. It is really up to you the agent to use tools that you have today like, Google Analytics, Ubadoo/Listing express reporting tools, to help your clients understand where the best placement of their listing should be. You also will find that your spend will be less but with much greater impact and the traffic is actually trackable.
Also please let me know where we can do a better job of helping you better understand how to use these tools in your business.