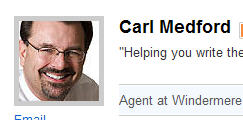 So you don't like to blog, or you wonder if blogging will really help your business. Well, if you ask Carl Medford he will tell you exactly how it's worked for him.
"Carl Medford (Fremont, CA) – Windermere Agent – TruliaPro
With the motto of, "Helping You Write The Next Chapter In Your Life,"™ Carl is one of the "next generation" of Web-based REALTORS.  Carl typically transforms any local coffeehouse into an office; meeting with clients in any location and conducting business while enjoying the best coffee available! Instead of focusing on a specific neighborhood, Carl has earned the distinction of being a "Regional Expert," tracking trends and critical information in multiple markets, thus bringing the broadest possible expertise and service to his clients. In addition to being a REALTOR, Carl is a licensed general contractor and also owns "The Next Stage," a fully professional and accredited home staging company. Lastly, Carl has developed "The Ultimate Home Buying Experience,"™. He is featured weekly in "Real Estate Reality" in the Real Estate section of the San Leandro Times and Castro Valley Forum newspapers.
Carl has a gift to deliver a great message through his writing skills. He took the Trulia Voices by the horns and now has become one of the Trulia Mayors on Voices. What does a Mayor get to do you ask?…." From his trulia profile.
The 'Trulia Mayor' program is a new initiative that helps strengthen and expand the Trulia Voices community including nearly 400,000 real estate professionals.
Trulia Mayors are great social media role models and innovators, and will represent the opinions of real estate professionals in various Trulia efforts.  Mayors frequently attend roundtable meetings, get sneak peeks of upcoming projects and provide their input in content quality matters on Trulia Voices. Additionally, Trulia Mayors participate in various PR and marketing efforts, such as co-hosting local events and co-authoring newsletters and articles, to spread their knowledge and provide expert advice to consumers and professionals alike. Bottom line – it's pretty cool.
You can identify the Trulia Mayors in the Trulia Voices community by a special Mayor badge. They continue participating on the Trulia Voices community by asking and answering questions and blogging. The Trulia Mayors are available to assist consumers when they have questions or concerns aboutTrulia or the Trulia Voices community, and they are happy to share their experiences and knowledge.
The inaugural Trulia Mayors are five real estate professionals who have led by example within the Trulia Voices community, and we're thrilled that each of them accepted their volunteer Mayoral appointments!  It's a great start to a program that will eventually include a representative from each state."
I would encourage to see what Carl has done so you'll know that there is room for all of us to excel in the world using online social networking tools. The consumer is hungry for the information you have to share.