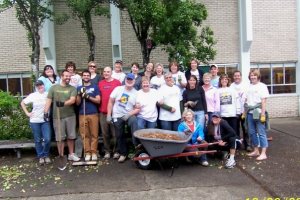 Just to give you an idea what 200 Windermere Realtors can do, take a look at at this video from last years community services day in Spokane at the Ronald McDonald  house. We really are all about building better communities.
Our work is not about houses. It's about people.
We're in the business of selling houses. But more importantly, we're helping people find a place they can call home. Our commitment to service extends beyond each real estate transaction. Every year since 1984, Windermere associates have skipped work for a day to complete neighborhood improvement projects.
Not only is Community Service Day a great opportunity to give back to the communities where we live and work, it also gives us a chance to work together. We clean, landscape and repair parks, playgrounds, schools, shelters and community buildings. Each office selects a project that best serves its community needs.
After all, real estate is rooted in our communities. And an investment in our neighborhoods gives us all a better place to call home.
Past projects have included cleaning, landscaping, painting and light carpentry to benefit senior citizens centers, facilities for physically and mentally challenged children and adults, public schools, low income housing and emergency shelters, among others.
Community Service Day has been recognized by several local and national organizations for its community improvement projects.
Real estate firms across the country have adopted similar programs.
For more information or if you have ideas for a project in your neighborhood, please contact your Windermere sales associate.